Meet Our 2020-2021 Council
President
Robert Smith
Robert Smith is the President.
Vice-President External
Vikram Singh
Vikram is a MACS student. He is a dynamic leader who works for the welfare of students. He loves to travel and make new friends. You can often find him playing ping pong at Dalplex.
Vice-President Internal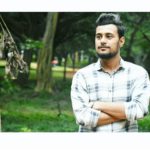 Jigar Makwana
Jigar is a Master of Applied Computer Science student at Dalhousie. He finds himself sketching, painting, playing badminton, up-ending books in his leisure time. He is an enthusiastic traveler. Three words that perhaps describe him are ambitious, adventurous, and creative. He loves to get involved in education outreach and public engagement activities.
Treasurer
Ruminder Singh
Ruminder Singh is the Treasurer.
Secretary
Hariprashanth Deivasigamani
Hari is a MCS student at FCS and CSGS Secretary. A passionate Public Speaker and a Hiker who loves to plan trips. He loves to involve himself in various extracurricular activities around Dal, He is also the VP-Public Relations in Dal Toastmasters, He is passionate about Gaming, AR/VR and HCI technologies.
PhD Representative
Reza Soltani
He is a Ph.D. student at the Dalhousie University, Computer Science department, since Jan 2020. He is interested in Blockchain technology and its application. He got his BSc from the University of Isfahan, Iran, and his Master from the University of Tehran, Iran.
MEC Representative
Hita Swamy
I am Hita Swamy from MEC program and the current MEC / MDI Representative. I find it amusing to learn new things everyday and always up for challenges!
MACS Representative
Maya Varrier
Maya is a MACS student. She is interested in volunteering activities and is dedicated to whatever responsibilities she has taken up.
MCS Representative
Caleidgh Bayer
Caleidgh Bayer is a Master of Computer Science student, and the MCS representative. She also manages this website.
Member-at-Large
Niharika Prasad
Niharika Prasad is a Member-At-Large.
Member-at-Large
Swarali Ghalwadkar
Swarali Ghalwadkar is a Member-At-Large.